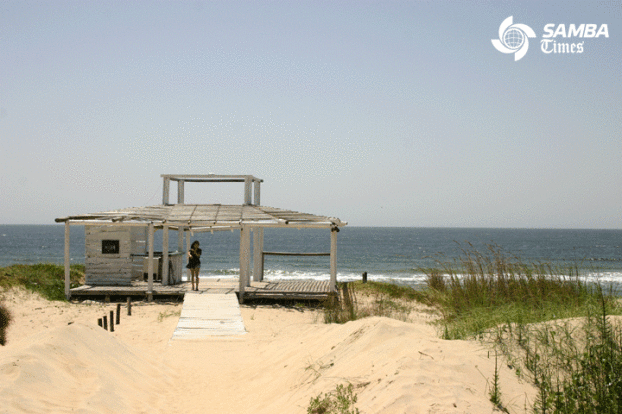 T
O many in the English-speaking world the country Uruguay is out-of-mind and out-of-sight, known for three things only:
It is perceived as a 'third world' nation, just like similarly named Paraguay.
The country's football team is competitive and sometimes stretches the rules.
A crude play on words as voiced by Homer in The Simpsons.
In reality Uruguay is South America's most progressive and stable nation, with beach resorts to rival the French Riviera, California coastline and Gold Coast.
 "Once you go, one thing is certain. You will be back."
It is far removed from many of the social and economic problems which hound Paraguay.
Indeed, many tourists from southern European countries have cottoned onto this fact and you can see hordes of Portuguese, Spanish and Italian visitors along the Atlantic coast.
Lonely Planet says of Uruguay: "Once you go, one thing is certain. You will be back."
For several years now Punta del Este, on the south-east peninsula, has been a playground for the rich and famous, with property prices adjusting accordingly.
Current hotspot Punta del Diablo is strikingly similar to both Noosa Heads and Byron Bay in their infancy – a haven for nature-lovers, surfers and canny developers.
In just a few years, construction in Punda del Diablo has rocketed, but there are still opportunities there for those looking to ride the wave.
Take out Punta del Diablo and Punta del Este and what exists in between are hundreds of kilometres of undeveloped beaches.
For ease of travel, Uruguay has some of the best highways throughout South America and is only a short ferry ride away from Argentinian capital Buenos Aires.
From the north of Uruguay, coaches link into southern Brazilian cities such as Porto Alegre, Santa Maria, Pelotas and Rio Grande. Long-haul travel is also possible to Curitiba and Sao Paulo.
International flights predominantly arrive and depart from the capital Montevideo, although smaller airlines service the airfield in Punta del Este.