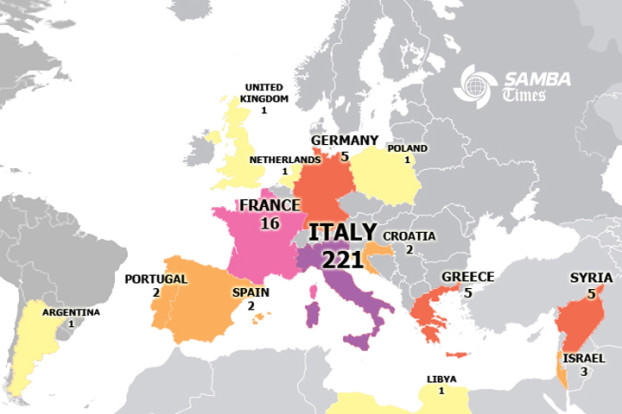 A
RE some nationalities more holy than others? Where were the popes born, all 266 of them? Did you know Argentina has today become just the 14
th
nation to supply the world a pope?
For younger generations who have witnessed Pope Francis (Argentina), Pope Benedict XVI (German) and Pope John Paul II (Polish) in charge of the Catholic church, it would be easy to think the papacy has always been shared globally.
However the anointment of Pope Francis, born in Buenos Aires, highlights just how uneven the distribution has been since St Peter in 33AD.
Not only is Pope Francis the first pope from South America and the Southern Hemisphere, he is also just the 10th pope from outside Europe and the first non-European from outside the Mediterranean region.
Italy dominates papal elections, having supplied 221 of 266 popes (judged on international borders at March 13, 2013). Many would be surprised to know Syria has supplied the third-most popes.
Right up until 1000AD roughly 90 per cent of popes were Italian-born, before a run of German and French appointments broke the stranglehold.
While it is often pointed out that three early popes were of Berber (North African) descent, St Victor I is the only one conclusively proven to have been born outside Italy in what is now Libya.
The others, Pope Miltiades and Pope Gelasius, are likely to have been born in Rome to parents of African heritage.
While Italy and France leave other nations for dead in the papal stakes, many would be surprised to know that Syria is equal third with Greece and Germany for the number of popes supplied.
Israel, Croatia, Portugal and Spain are among the other select nations to give birth to more than one pope, though St Callixtus (Pope from 217AD-222AD) is a contentious attribution to Spain.
Rounding out the distribution of divinity are one-pope wonders the Netherlands, United Kingdom, Poland, Libya and now Argentina.
The UK's sole pope was Adrian IV, who like Pope Francis (Jorge Bergoglio), changed his name to suit the calling.
Previously he was known as Nicholas Breakspeare of Abbots Langley in Hertfordshire.
He held the papacy from 1154 until 1159.