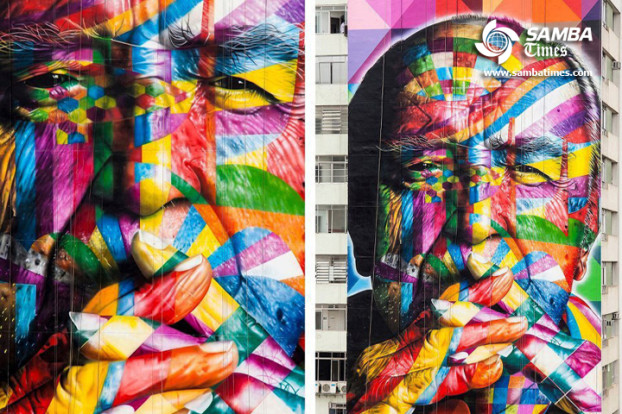 H
ERE at Samba Times we are massive fans of urban art – and for sure in South America you'll witness some of the best in the world. Check out this fantastic Oscar Niemeyer tribute.
Covering the façade of a building near Avenida Paulista in Sao Paulo, this particular work is by artist Eduardo Kobra.
It pays homage to one of Brazil's favourite sons – Niemeyer – considered a driving force of modern architecture. Niemeyer passed away late in 2012 at the age of 104.
The Brazilian icon touched nearly every part of the nation during his life, being born in Rio, designing the capital Brasilia and drawing up plans for the Oscar Niemeyer Museum in Curitiba.
In total it is said Niemeyer worked on over 600 projects during his lifetime.
Though now revered throughout Brazil, Niemeyer was previously hounded for his links to communism and chose to leave the country for two decades before returning in 1985.
He was one of 200 professors from the University of Brasilia who resigned in 1965 due to the military dictatorship's neglect of tertiary education.
If you're a supporter of big thinkers, Motherboard TV also has a great Oscar Niemeyer tribute on YouTube.