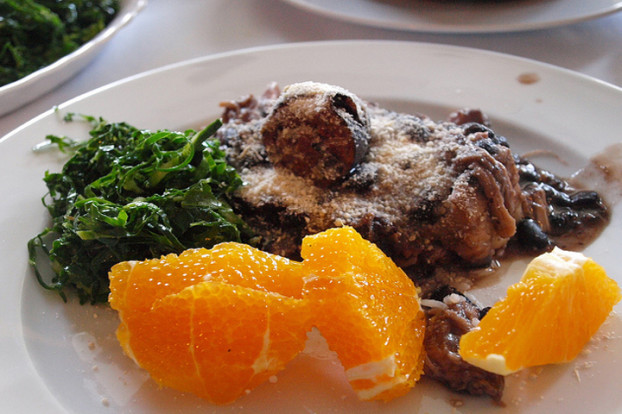 This slideshow requires JavaScript.
I
T is fair to say Brazilian cuisine is incredibly rich, diverse and delicious in its array.
You will find going from north to south in the country like walking along your city's most eclectic restaurant strip, stopping and tasting a different dish at each business.
There are modern dishes that have been introduced to Brazilian families via foreign influence, intermingled with indigenous, Portuguese and African flavours that have developed over numerous generations.
Brazilian foods are not only spectacular in themselves. The act of eating is a celebration in Brazil and at special times, in the country areas particularly, sitting to eat together is an outward gesture of respect.
As such, many visitors may not at first realise it is not always acceptable to wear a hat or have your shirt off.
Breakfast is generally a feast of coffee and milk, bread ham, cheese and cakes
From the southern areas in Brazil you will encounter many 'churrascos' – world-famous Brazilian barbecues – along with rice, and pork salami in Rio Grande do Sul.
Parana has 'barreado', a mixture of meat cooked in clay pot with cassava flour and banana.
And Santa Catarina is distinctive for the fish hot pot and apple pie brought by German settlers.
In Brazil's south-east, the state of Minas Gerais brings 'pao de queijo' – a delicious cheese bread – and a diversity of dishes with rice, beans, pork and chicken.
Rio de Janeiro is famed for its diced beef with okra (lady fingers) and prawns with choko. The unexpected fusion of fruits, flowering plants, unusual vegetables and meats can take many English-speaking visitors aback at first, but has to be tried. Absolutely delicious!
Sao Paulo, although very similar in Brazilian cuisine to Minas Gerais, also has notable influences from Italian and Japanese food. Plus it is a haven for Brazil's beloved 'pastel', a pastry filled with either meat, chicken and heart of palm – or made into a dessert with fillings like chocolate and coconut.
Along the north and north-eastern coastline fish is most definitely the main dish. Inland of these areas, beef jerky reigns supreme. There is also 'rapadura', a sweet made with cane sugar since the days of colonisation.
The very north has the greatest indigenous influence. Many dishes are made with fish, prawns, chillies, cassava and desserts are made with acai, cupuacu and graviola, all Brazilian berries.
Of course, let's not forget to talk about "feijoada" – a dish very much appreciated from the north to the south of the country, harking back to
Portuguese ties.
Feijoada is a mixture of black beans and smoked pork meat. It is served with couve, rice, pork crackers, farofa (a mix of cassava flour and banana) and orange to help with digestion.
Should you need a beverage to wash down your meal and lubricate conversation around the table, you will no doubt be offered a caipirinha, a famous Brazilian cocktail made with cachaca rum, from locally-grown cane sugar.